Hi John, and welcome to the Beard Community!
Sorry I'm a bit late with a response, but I wanted to suggest that you do a Web search for barber shops, hair stylists, and salons in your area to look for barbers and stylists who might have photos or videos on their Web sites about working with bearded clients, and then call them up and inquire about their experience.
Suggested Google searches could be something like
[
www.google.com
]
or
[
www.google.com
]
You could look for reviews on Yelp or other Websites that let people provide opinions about such services.
You could also contact a beard club in your area (there must be one or more in the Boston area!) and see if they might be able to provide any recommendations.
That said, when you do visit a barber/stylist and put yourself under the knife, as it were, you should talk with them a lot about what you'd like to achieve with the trim, how you'd like it to look, what you'd like left alone, slightly trimmed, or considerably trimmed. For example--neckline, cheeks, sides, stache. If you have any photos that might realistically depict what you're aiming for, it could help to share those with the stylist.
If you wish, you could also request that they not cut off more than X inches anywhere without specifically asking you, and you could watch what they're doing in the mirror to prevent more being taken off than you want.
All this reminds me of the old joke/riddle--An isolated town has two barbers. One has a very bad haircut and the other has a very good one. Which barber should you go to? A.: The one with the bad haircut, because that barber knows how to give good haircuts.
Let us know how things turn out! Perhaps you could post before and after photos.
Cheers,
Tom
Tom W. in Tucson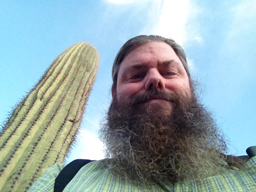 Edited 1 time(s). Last edit at 12/17/2017 05:03PM by TomW.